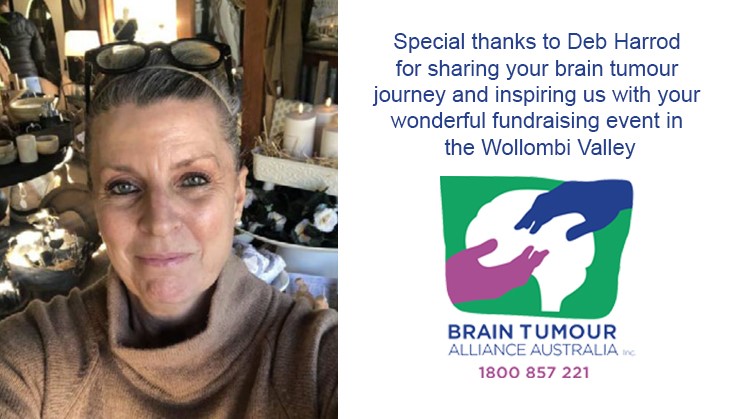 On Friday June 18th the local community of Laguna and Wollombi Valley came together for an electric fundraiser at the Great Northern Trading Post [GNTP] – all the inspiration of Deb Harrod - a local firecracker.
Motivated by her own brain tumour story, Deb wanted to raise funds for BTAA, knowing how vital resources are for this national not-for-profit brain tumour support organisation. BTAA aspires to tend to the multiple needs of those facing a brain tumour journey, their carers, their families and friends.
Deb has defeated her brain tumour and while others can be as fortunate, many are not. There are more than 120 different types of brain tumour, and to be diagnosed with one – in any guise – is a devastating experience. The brain tumour experience has not stopped Deb for a moment. She is co-owner, with Chantal Roger, of a delightful boutique in Laguna, a venue all the locals find irresistible. She also teaches yoga in Sydney, when COVID allows.
On the night, we were all treated to a banquet cooked up for the occasion by Rosa Marsh, the co-owner of GNTP, who spoiled the guests with an array of mouth-watering dishes - on an evening when warm, tasty food was of the essence. Rosa's staff were outstanding in delivering hot savoury food to all patrons in record time, while in the background there was a silent auction to bid on.
Garry Musgrove, friend and Principal of Musgrove Realty, was chief auctioneer – with items generously donated by locals and the generous-hearted from further afield. There was also a live auction which was great fun.
The evening would not have been complete without the dynamic music brought to us live by The Well-Dressed Gentlemen. The dance floor was pumping.
This writer had departed by 10.30 pm but rumour suggests the party went on well past 1.00 am, and yet the next morning everything at GNTP was pristine, and smiles on all faces were as broad as ever, including Deb's, Chantal's and Rosa's.
The takings for the evening were approximately $10,000. This includes Rosa Marsh giving 10% of the dinner costs, and all the incredible generosity of the local community in providing items for the two auctions, and then bidding on them too.
There is whispering down the local corridors that we may repeat this enterprise in our valley next year. Stand by. BTAA thanks everyone.
Alice Parsons
NSW Representative BTAA Committee
If you would like to share your story with BTAA or are looking for ways to get involved, reach out to us via email or the free call number.
To return to the BTAA homepage, please click here.